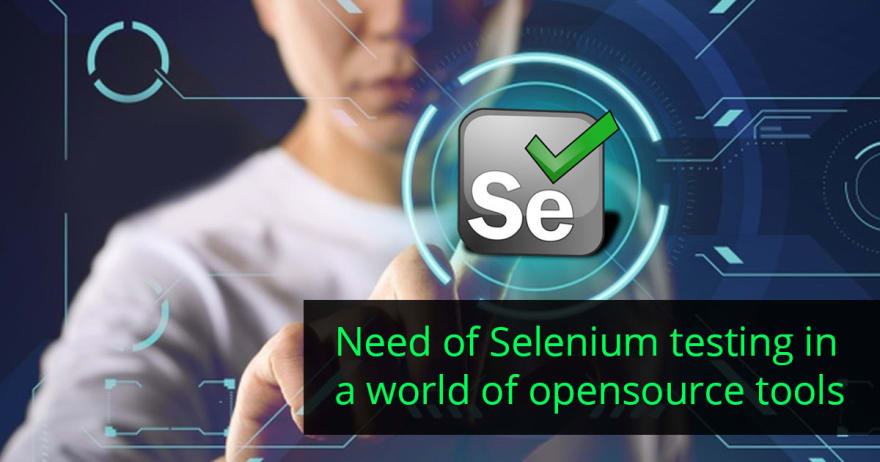 The inevitability of test automation in ensuring the quality of software has brought the importance of testing tools into sharp focus. Among the many open-source tools, Selenium has established itself as a winner thanks to the slew of benefits it offers. It is undoubtedly the most popular open-source test automation tool with advantages including the ability to run multiple test cases across browsers and operating platforms. Selenium testing has come to occupy the popular imagination of developers and testers. This has happened in spite of the availability of sundry open-source testing tools. So, what makes Selenium special? Let us discuss the same here:
What is Selenium and why Selenium testing is preferred?
Selenium happens to be an open-source test automation tool that helps to execute testing across web browsers. These include Firefox, Mozilla, Safari, IE, and Chrome. Selenium offers four types of tools comprising Selenium RC, Selenium IDE, Selenium Grid, and Selenium WebDriver. However, WebDriver and Grid have been merged into a single tool. Selenium testing services are preferred by developers and testers over other tools for their benefits.
Advantages of using Selenium test automation
With test automation delivering benefits like enhanced software quality, higher ROI, and iterative testing of application across omnichannel environments, Selenium takes the cake.
Open-source: Being a freeware, the portable Selenium does not entail any cost and can be downloaded for free. Further, it has a dedicated community to support it with periodic upgradations. These relate to the many functionalities and features of the tool ensuring their conformity to the latest technologies, device platforms, trends, and protocols. No wonder these upgradations have made Selenium arguably the most reliable automation tool in the market.

Support for language and framework: Conducting Selenium automation testing can be a breeze given its compatibility with various languages and frameworks. These include support for programming languages like Python, Java, Ruby, Groovy, Perl, C#, and JavaScript, among others. This means a tester need not learn any new language to write the test scripts. Instead, he or she can write automated test scripts in any of the above-mentioned languages and allow Selenium to do the needful, that is, converting the codes into Selenium compatible ones. Also, Selenium can easily integrate with various frameworks such as ANT, Maven, TestNG, Jenkins, or Hudson for continuous integration, reporting, and other activities.

Support for operating systems: Today, an application or software has to run across operating systems (and other environments). This can be a challenge as every operating system comes with its unique attributes. The support for various operating systems helps Selenium experts to test pieces of software on Windows, MacOS, UNIX, or Linux, among others. Importantly, the Selenium testing specialists can write robust rest scripts without thinking about the OS platforms. For example, a test suite written on Windows can be made to work on Linux without any difficulty.

Support for devices: To deliver the best user experience, an application should perform seamlessly across devices. Selenium automation testing can take place on devices of any build, configuration, and mobile operating platforms like Android, iOS, Windows, or Blackberry.

Support for browsers: Selenium is compatible with almost all browsers in use such as Chrome, Safari, Opera, Edge, Internet Explorer, or Firefox. This means the testers need not write scripts for every browser but only once. This can be of immense help when executing multiple tests across browsers simultaneously.

Easy to use: The Selenium testing framework is easy to operate thanks to its simple UI, which lets testers create and implement test scripts effectively. The tests can be watched while being executed and the reports delivered at the end can be analyzed for any follow-up action. Further, the tool is backed by a dedicated community that keeps it up-to-date. Also, testers can query the community members or brainstorm with them to address any issue.

Reusability: The test suites created on Selenium can be reused to test different software applications across browsers, devices, and operating systems. However, since it does not contain all the required elements for web automation testing, the Selenium testing experts need to use add-ons or third-party frameworks to expand the scope of testing. For example, JUnit and TestNG should be integrated with Selenium to generate reports.
Conclusion
With test automation becoming an integral part in ensuring the quality of software applications, tools like Selenium has come as a savior. Its ease of use and compatibility with various browsers, operating systems, frameworks, and devices make it an ideal candidate for automated testing.