The Hitchhiker's Guide to Business Intelligence
With Big Data tools, streaming data, and machine learning being such a focus for many teams, you may wonder what role your Business Intelligence (BI) team plays in the data world. This guide explores what BI is, how this function delivers work and what roles are part of a typical BI team.
Data? Isn't that a Data Science thing?
The BI team is responsible for reporting, forecasting and presenting insights based on what has happened in the past and what is happening right now. The biggest difference between what this team does and what Data Scientists do is that the BI team are concerned with what 'has happened' and the Data Science teams work is concerned with predicting 'what will happen next'.
The BI team produces metrics, like ROI and profit margins, and benchmarks how the business is doing in relation to the industry, previous years and forecasts future numbers.
I'm not always a fan of visualisations that looks like Venn diagrams but feel like this illustrates the point nicely.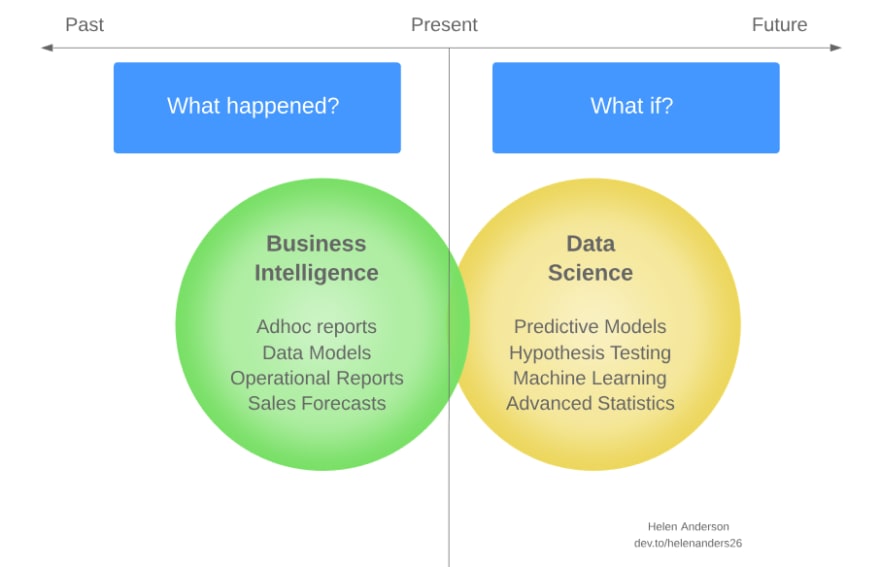 ---
---
So, what does the BI team do?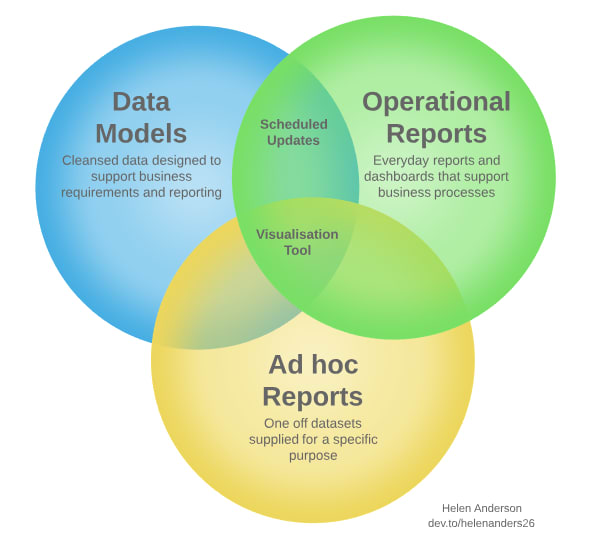 ---
---
Data Warehousing / Data Platform
The BI team takes data from all over the business and relevant external data sources and stores it in a Data Warehouse like AWS Redshift or Microsoft SQL Server.
This data could be from:
Internal databases
CRM database
Marketing Automation database
Google Analytics / Big Query
External industry data
Forecasts from sales management
Exchange rates
While the catch-all role of BI Consultant might have this function as part of their role, it's more likely that a team of Data Platform Specialists, DBAs, Data Engineers and Infrastructure experts will take care of maintaining the platform the data lives in.
---
---
Data Models
While Data Scientists often like the 'noise' and quirks of the source data left in to train their models, the BI team cleanse the data and produce data models to be used in reporting. This single source of truth is used across the business in sales, finance and marketing reports with agreed business metrics, for confidence that everyone is on the same page.
Data models are generally built by a BI Consultant or Developer who uses tools like WherescapeRed to model the data, and schedules builds that work best for the end business user.
---
---
Data Analysis and Visualisation
To enable business users to get value from the data models and reports, the team produces Operational Reports and Ad hoc reports on a secure Visualisation platform like Microstrategy, Tableau or Power BI.
Operational Reports - updated regularly for everyday reporting designed to meet the needs of specific users
Ad-hoc Reports - one-off reports for a specific purpose with a project, or deep dive in mind
This function may be performed by the BI Consultant, Data Analyst or Visualisation expert who interpret the story behind the numbers and make it as easy as possible to understand.
---
---
How is work delivered?
It all starts and ends with the stakeholder and group of end users. There is constant contact from the time when requirements are gathered, to developing the MVP, to Production rollout and ongoing support.
Much like Software Developers, BI teams projects are often delivered in sprints using the same kind of tools like Jira, Confluence for documentation, text editors for coding, with work being tested along the way.
Teams work closely with the stakeholder to deliver work in phases and constantly provide insight as models develop and dashboards are created.
---
---
This post first appeared on helenanderson.co.nz
Photo by Andrey Grushnikov on Pexels
Classic DEV Post from May 31