Browser extensions help save time by automating the user's daily tasks. Most useful programs and applications have extensions in Chrome, Firefox and other browsers. They increase the speed of data processing and allow the user to perform fewer actions.
If you work remotely or provide remote support to users, you probably use some kind of remote access service. But not all of them have their own Chrome extension.
Google Chrome currently takes the lion's share of the browser market. This is why we decided to develop a single one-stop solution using the Google Chrome extension.
In addition, most client management systems (LiveChat, CRM, HelpDesk), including our solution, are based on web technology. This opens up great opportunities for integration.
How Does Getscreen.me Extension Work?
The extension duplicates the Quick Support section functions. Now you do not have to switch to your personal account to work with clients. Work with them right within your platform.
Getscreen.me Chrome Extension allows to connect to devices in one click. Also you can share access, download files and control all your computers.
To invite a client, just click the button in the extension window: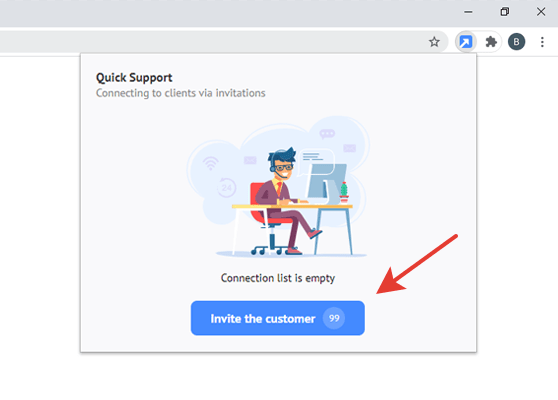 After creating an invitation, copy and send the link to your client:
After clicking the link, your client will see a prompt to establish a remote access session. And as soon as he downloads the agent program - you can connect to his computer.