Introduction to Raspberry Pi 3 B+
Raspberry Pi 3B+ is a customized variant of the Pi 3B that was launched in 2016 and possessed a CPU, GPU, USB ports, and I/O pins. They are nearly similar with regards to functionality and technical specs; although, the B+ model possesses USB boot, network boot, and Power over Ethernet and that is unavailable on the B model.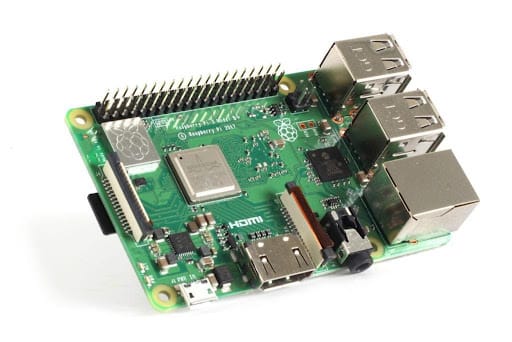 Technology has progressed with the passing of time with the goal of making people's lives easier and more convenient. This gadget was a significant advancement in technology that made PC learning so simple that anyone could get their feet wet in the process with minimal effort.
In this lesson, we would go over everything you ought to recall about the Raspberry Pi 3 B+, including its key functions and features, benefits, and everything else you need to know, so you could get all the knowledge you need in one spot rather than wracking your brain while surfing the web. Let us get started.
Raspberry Pi 3 B+ Specifications
The CPU is 64-bit, and the RAM is 1GB.

Broadcom BCM2837B0 chipset is among.

It possesses a 1.4GHz quad-core ARM Cortex-A53 processor alongside four cores.

A forty pin header is incorporated (26 GPIOs)
This gadget includes Gigabit Ethernet PoE and is unavailable in the B variant.

Micro SD slot for expanding the PCBs storage size MicroUSB power connector for giving off power to the gadget HDMI CSI camera device.

WiFi and Bluetooth are incorporated and that was not made available in prior Raspberry Pi 1 and 2 variants.

HDMI output is available through a complete HDMI connector, and composite video is available via a 4-pole 3.5mm port. As with the Pi 3, stereo audio is made available through the HDMI port and 4-pole 3.5mm socket.

Connectivity: The number of USB ports on the PCBs right side stays constant featuring four full-sized USB 2.0 connectors.
Most users would be pleased to learn that the Ethernet port currently supports Gigabit connectivity and that was requested for decades. With certain extra gadgets, the updated model would also enable power over Ethernet. The speed is reduced to 300Mbps because of implementation constraints.
However, total network performance appears to have improved threefold and that is wonderful news for any utilization that demands for the movement of data.
As illustrated on the Pi Zero W, the ceramic antenna possesses a substituted resonant hollow structure.
Power: The power supply remains a microUSB port. Its usage is greater, drawing about 170-200mA beyond that of the Pi 3.

CPU: The CPU is the little PC's brain, assisting in the execution of numerous commands related to mathematical and logical principles. It possesses a 64-bit storage capability.

GPU: It represents a graphics processing unit and that is employed to calculate pictures. The gadget that is primarily utilized for displaying video games features a Broadcom video core cable installed.

USB Ports: In this latest variant, two extra USB ports were incorporated, removing the desire for an outside USB hub for connecting several things to the gadget.

MicroUSB Power Source Connector: It is utilized for supplying the PCB with 5V power. It takes up 170 to 200 milliamps which is way beyond the B model.

HDMI and Composite Connection: Both the audio output socket and the video composite socket have undergone some combination into one 4-pole 3.5mm socket beside HDMI. In the latest B+ model, the power connector was shifted adjacent to the HDMI plug. Majority of the power and audio video composite sockets are currently in a particular corner of the PCB and that gives it a neat and tidy appearance.

USB Hard Drive: On the PCB that is utilized for booting the gadget, there is a USB hard drive. It is identical to a typical computer's hard disk, except that Windows is utilized to boot the gadget's hard drive.

PoE: The B+ model possesses a Power over Ethernet (PoE) function and that is a novel characteristic in this gadget that permits the needed electrical current to be delivered through data lines.

Other Changes: The B+ variant offers lower in terms of recent functionality and possesses a little altered structure with regards to part placement. A tiny SD memory card slot replaces the SD memory slot (works in an identical manner as the former variant). The status LEDs underwent some movement to the other side of the PCB and are currently simply available red and green in color.
Dimensions of the Machine
With the machine featuring an entire dimension of 85mm x 56mm x 17mm, the Pi 3 B+, it sustains its physical size.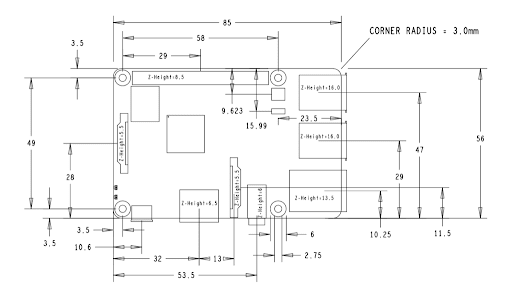 Differences Between the Raspberry Pi 3B+ and the Raspberry Pi 3B
The main distinctions amidst the Pi 3B+ and Pi 3B are:
Although the maximum speed is 300Mbps, the clock speed has been boosted to 1.4GHz. Power over Ethernet support has been incorporated via another header Gigabit Ethernet.
WiFi performance has undergone improvement in two bands.
PXE network and USB mass-storage booting improvements
Heat and electricity management have been improved through MaxLinear MxL7704.
The tiny shiny square-shaped piece of metal on the CPU responsible for the spreading of heat.
Metal protection improves FCC compliance.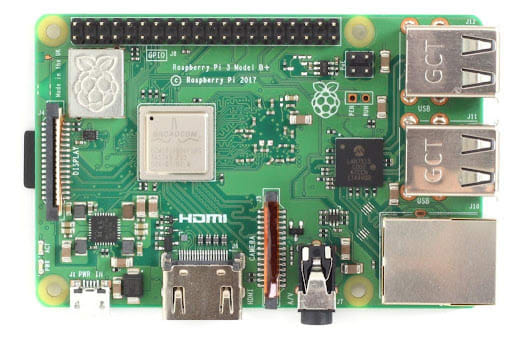 Pricing for the Raspberry Pi 3 B+
The gadget costs about $35. Meaning that it is at a similar price range to the Raspberry Pi 3 it is meant to succeed. Normally, depending on exchange rates and local taxes, this settlement cost would change into varied retail prices.
Raspberry Pi 3+ Applications
Raspberry Pi features numerous utilizations and, in certain situations, could be utilized as a standard PC.
Robots are controlled by notebook-sized mobile PCs at home.
Designs involving coffee
Coin-op Machine
Cosmic Computer
Digital media player
Network music player
Conclusion
The Raspberry Pi 3 Model B+ is the latest addition to the Pi 3 family. The dual-band wireless LAN has modular compliance certification, which permits the PCB to be incorporated into end devices with substantially less wireless LAN compliance testing, expenses, and timeframe. The machine tracks of the Raspberry Pi 3 Model B+ is equivalent to the Pi 2 Model B and Pi 3 Model B.