Can't wait to play StarCrazy? Go ahead
September 27, 2021. That's the date when StarCrazy officially launched just a little over one year ago. A lot of sweat and maybe a few tears were shed to get to that date.
Here's a condensed version in video form of the Year's Achievements.
But before we dig into the past year's highlights let's be sure you know how to be a part of the present by joining the StarCrazy family today. Start by downloading and installing a crypto wallet.
Now you can start playing StarCrazy and learn what all the fuss is about.
This is the story of what has happened since that day.
The developer team wanted to build a game they could be proud of. A game where everyday people could start to play and earn without using too much of their hard earned money. Where a person could start small, build up, and get a fair share of the earnings from the game. The team knew this would require better tokenomics than offered by early P2E games. They also knew that they had to craft a game that was engaging and rewarding enough to return to again and again.
Although we've had a year of solid growth in the number of players, the game continues to be a better playing (and earning!) experience, this is really just the beginning of StarCrazy's journey. There's much more for us to write, together, of the StarCrazy story. But now is a good time to look back on some of the highlights of the game at the one year mark.
When we first launched we began by letting players fuse Starz, buy and sell Starz and use those Starz to mine. Looking at that now, we have to admit things were pretty limited in those early days. But it was a start. We were off to the races!
Next came the introduction of the Syrup Pool.
What is a syrup pool? It's a way to provide liquidity to the game so that it has a vibrant, functioning game economy. At the same time, it pays investors for lending the game tokens. This was an important step in StarCrazy's growth. This served, and still serves, a two-fold purpose. First, it provides StarCrazy with an ongoing source of liquidity and secondly, it gives players another way to earn passive income while supporting the game.
To understand the role that the Syrup Pool plays in the StarCrazy economy, watch this short video on StarCrazy's Tokenomics.
The beginning of January, 2022 brought the first planet auction. This was a curious one to roll out. Why? Well, the truth is, at first, there was nothing you could do with a planet and they could be quite expensive to buy. But there was no small amount of interest in owning a planet. We had people who understood they were getting in on the ground floor of something big. Look at this fantastic coverage the planet auction received!
StarCrazy Exceeds All Expectations Auctioning Off 100 NFT Planets For $800,000
That's a strong endorsement of the long-term prospects for StarCrazy.
The following month, February of 2022 saw the introduction of making the game compatible with MetaMask wallet. This may seem like a small thing to some but we believe this was important because it opened up access to StarCrazy for people outside of the ioPay ecosystem. It tells the community that StarCrazy is not trying to create a closed ecosystem or walled garden but rather, we want to live the open source ethos that is part of the fabric of Web3.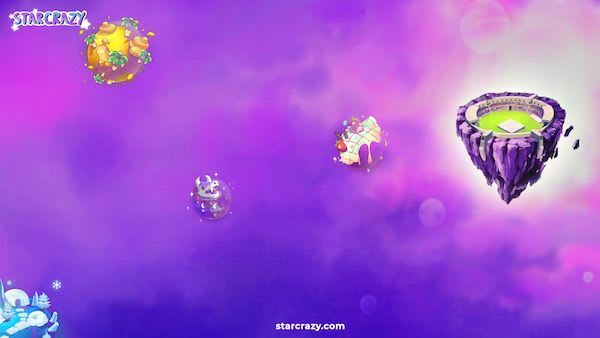 At the end of March, 2022 PvP (Player vs. Player) was introduced. Now we're talking! Our teams of Starz can compete head to head, mano a mano, against other players. The prize, real earnings and bragging rights is no small thing. Oh, and we mustn't forget that it was just a few weeks later, in April, that we introduced the PvP training feature. It's basically like sending your Starz to the gym to get toned.
Simultaneously, we introduced betting on battles - yet another way to earn. If you want to learn about both PvP and betting, or need a refresher course then read this blog that covers both.
The Apex Arena Breakdown Blog

What did June bring besides warmer weather? The PvE (Player vs. Environment) feature. This is not only another exciting way to compete but also sets the stage for players to acquire items that will be necessary when more advanced features are brought online. Building construction requires objects that you can only get by PvE play.
**IoTeX's Halo Grant
**While all of this exciting, necessary work is being done on the game itself, the team is working to meet milestone achievements outlined in the grant that IoTeX awarded to support building StarCrazy. It was on July 4th, 2022 that StarCrazy reached the third, and final, milestone in the IoTeX Halo grant.
We're going to pause a moment in our walk down memory lane of StarCrazy's first year and express our gratitude:
We're grateful for the support that IoTeX has given us. For their trust in our ability to deliver on our promise to continue building and grow the StarCrazy project and to move it to a more mature state.
What was the third milestone?
Over a period of three months, the team was able to:
Raise the number of GFT holders to 2,500 and TVL (Total Value Locked) of GFT to 250,000 IOTX.
August brought an important moment for the StarCrazy community Voting for Battle Fees was on the table for consideration.
We'll take another time out to note this important quality about StarCrazy. Our consideration of the needs and desires of our players. (If we don't pat ourselves on the back then who will?)
The fact that we asked you, the players, what you think would be fair fees to pay for Battles is emblematic of the respect we have for you. In this case, we asked you to vote, a vote was taken, and then a sizable number of you in the community said you didn't fully understand the vote and were not happy with the outcome of this vote. So you know what? We held a second vote and established the fees based on your additional input. This is what makes StarCrazy a better model for P2E games.
Random Buff In Battles
For Season 4 (October 1, 2022) we introduced an entirely new element into battles, the element of chance. When preparing to battle, this feature randomly selects an element to display. This element gives a Buff for that battle. Oh my! Sometimes it pays to be lucky. Read how this feature works.
**What's next for StarCrazy?
**We're now in the fourth quarter of the year. Looking at the StarCrazy roadmap you'll see we're in the process of forming a DAO (Decentralized Autonomous Organization). The DAO will be community owned and will take the lead in determining how StarCrazy is governed and developed in the coming months and years. This is uncharted territory and frankly we're incredibly excited to see where this all leads.
As noted at the top of this piece, there's so much more to be written about the StarCrazy story. We're glad we'll be working together as co-authors.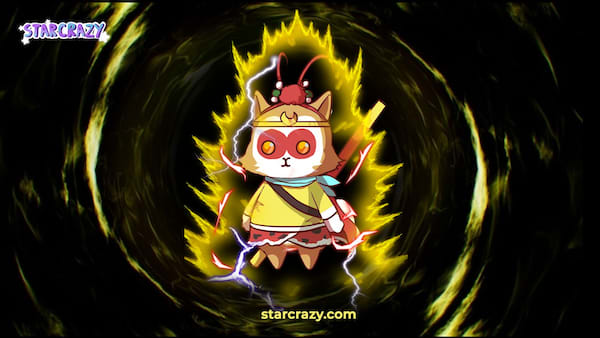 See: www.starcrazy.com