Hey There 👋🏾
Hope you are doing great 🙌🏾
In today's article, we do something different. I wanted to talk about a problem that I was recently facing and how I (almost) solved it. 🤞🏾
---
The pain is real
Here's the thing. I have been wanting to be a good content creator for a long time now. Notice that I say a good content creator. That's hard.
The more and more I dug into hacks, or shortcuts to become a great content creator and grow a following, the more it became clear that there is actually no secret.
The only secret is that one keeps creating content consistently, regularly and becomes great over the time. That's it.
Walking the talk
It's easy, then, right? Just keep writing an article a day and in the long run, you become great. Well, so I thought. 👀
But it's easier said than done. Once you start walking on that path, many demons raise their head.
Lack of time ⏰
Lack of motivation 😪
Lack of topics to write about ✍🏼
Solving the problems
The first 2 problems are mainly behavioural in nature. In order to solve them, I suggest you get certain very strong whys. I'll explain.
whys are the reasons for which we do something. And the stronger the why is, the stronger its emotional connect with you, the more you are inclined to do that thing. For instance
Why do you wake up early in the morning and hit the Gym? 💪🏽 You want to build a fitter body and beat the scale.
Why do you study late into the night? 🙇🏽‍♂️ You want to ace that exam and make everyone proud.
So you see, getting a strong why would solve those 2 issues. But what about the third one?
The tool
This is where the tool that I was talking comes into the picture.
See, most of the time, the topic that we want to write about is fairly clear to us. For instance, let's say I want to write about developer productivity. Now the issue is that, from here on, that topic can lead to hundreds of tangents. But once you sit down to think about it, very few come to your mind. And that leads to a lack of clarity which in turn leads to nothing ever being written.
This is where I recently found myself using this FREE tool peppertype.ai. It is basically an AI assistant that generates text based content based on the context that you provide.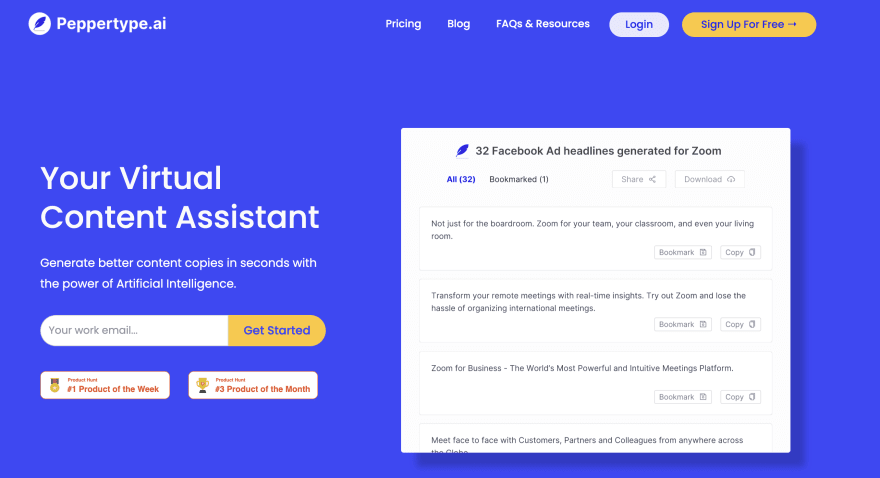 Basically, you can use it for anything from generating Ad copies, Product descriptions, tweet ideas etc. But in our case, we will be using it to generate blog ides.
So I click on the "Blog ideas" Button and head to an interface that asks for a blog title and a description about what I am interested in writing about. As per my expectation, I fill in developer productivity and a brief description about it. And click Create blog ideas and viola! 🪄

This is the list of the 11 blog ideas that the tool has generated for me which I can save for later to go back to. Which covers a broad range of articles related to the topic I chose. Also, do note that these topic suggestions are optimised for SEO so that once you write out the article, it will rank high on google search. Also, you can always click on create more in order to get some more suggestions.
So go ahead, feel free to use the tool yourself to get ideas about the topics that you want to write about. But be judicious with your search and make sure that you save all the suggestions in the bookmarks because the free suggestions are capped at 10,000 worlds only.
But remember, in the beginning I said that this solved my problem, but almost. Because at the end of the day, an AI can only do so much and it is basically you who has to do the meat of the work and keep pushing until you reach your goals. So all the best with that. 🙌🏾
Hope you liked this one,
Cheers!
---
PS:


If you end up liking the tool and are considering subscribing to the paid version, it's available as a subscription starting from 💰 USD 25 per month.
But the good people at Peppertype have made a 🎊LIFETIME DEAL🎊 available for the product on Appsumo.com starting from USD 39 for life! 🙌🏾.
Deal link
Check out the deal link here. Do note that the link is affiliate but you end up paying exactly the same.