The video game industry is huge and offers numerous jobs across the planet with component parts employing thousands of people worldwide. Major players in the market include Activision Blizzard, Electronic Arts, Nintendo, Sony Interactive Entertainment, Square Enix, etc.
People from all ages love to play games, and this gaming culture around the planet has fostered a gaming community that comprises of billions of players across borders. However, developing games is tedious, and this is why many establishments end up using powerful game development software and tools.
According to recent study by WePC, the Video Gaming Industry is estimated to be worth $159.3 billion by 2020 and projected to reach $200 billion by 2023. Furthermore, the Asia-Pacific region is considered the biggest market with revenue of $72.2 billion by 2019 and home to 48% of gamers worldwide.
Moreover, 85% of the revenue generated by the industry comes from free-to-play games. Tencent Games, which is a video game publishing division of Tencent Interactive Entertainment, made $19.7 billion in 2018 alone.
In light of this information, let's take a quick look at some of the top game development software that you can use to create video games featuring incredible gameplays. So put down your Nintendo Switch for a while as this is going to be a fun ride.
• Construct 2


Released on February 4, 2011, as a public beta and a full release on August 22, 2011, Construct 2 is the original Construct system's successor, an HTML5-based 2D game editor. Construct allows for the quick creation of games through visual programming.
With Construct 2 however the software is no longer comes with a free and open-source license, instead offers propriety with a free license option. As of May 2019, continuous improvements alongside Construct 3 development have been maintained and carried out. Some notable games include Last Moon, MOBS Inc., Momo's Adventure, and Revenge of Dog.

• GameMaker


Originally known as Animo and later renamed to its current title in 2011, GamMaker is a cross-platform game engine developed by YoYo Games since 2007 with various iterations. Not only does it support cross-platform and multi-genre video games, but it also offers custom drag and drops visual programming language otherwise known as Scripting Language.
This has led to the development of more advanced games with additional features. With the recent versions like poe ninja and GameMaker Studio 2™ more advanced game developers are finding this software viable. Noticeable products include Forager, Police Stories, Katana Zero, and 10 Second Ninja X, to name a few.

• GameSalad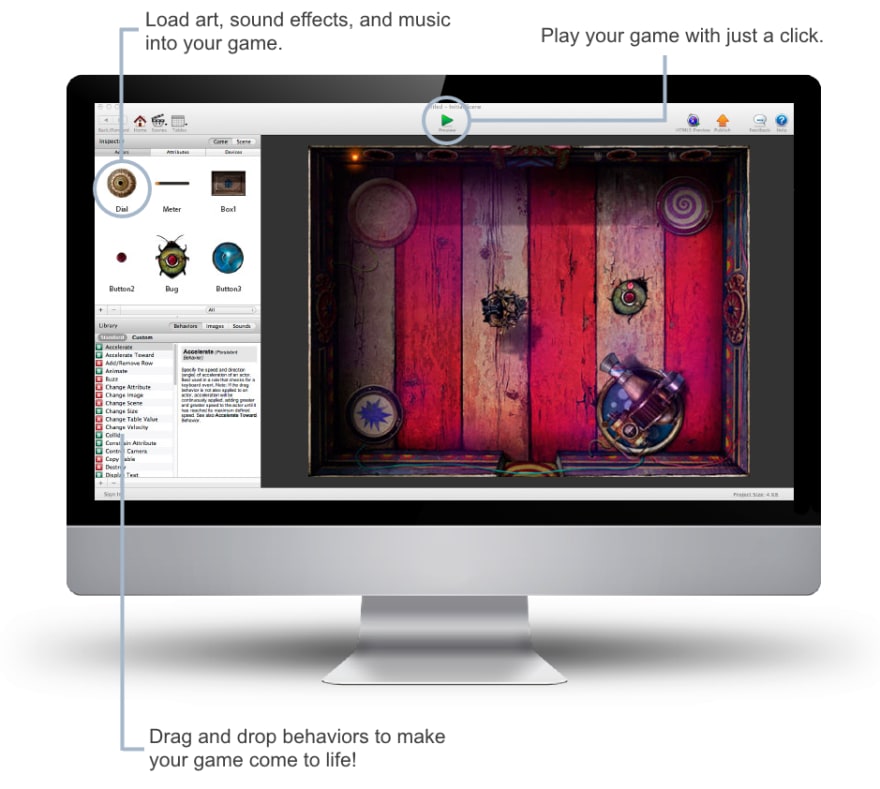 An authoring tool consists of a visual editor and incorporating a behaviour-based logic system, GameSalad Creator is also used in over 223 schools to teach computer science concepts. Many students also learn about logic-based thinking and develop problem-solving skills without the pain of learning syntax.
In the consumers and the creative industry of professionals such as animators, game developers, and even graphic designers, GameSalad serves the purpose of rapid prototyping and building interactive media.
Furthermore, GameSalad also comes with a specific preview mode for debugging and testing performance as well as the functionality of the games. Noteworthy titles include PewDie Pug, Echoes of Aeons, Booger Boing, and Beyond Solar, to name a few.
• GDevelop


A 2D cross-platform and free, open-source game engine, GDevelop is mainly used to create PC and mobile games along with HTML5 games to be playable in a browser. Mainly aimed at non-programmers, GDevelop was created by Florian Rival, a software engineer at Google. GDevelop utilizes event-based visual programming similar to other engines such as Construct and Stencyl.
Due to its ease of use and open-source license, GDevelop is often used in education institutions from primary school to specialized university courses. It was initially released in 2008 with a stable release last year on July 29, 2020. Significant games include the likes of The Might Rune, Uphill Climb Racing Neon, Asteroid Dig, and Hyperspace Dogfights.

• Indie Game Maker


Marketed and developed by Autodesk, an American multinational software corporation, Indie Game Maker along with AutoCAD, can be commercially sued to deliver computer-aided design and drafting. Autodesk also offers various other tools that artists need to develop expansive worlds with realistic characters, and all the elements needed to deliver immersive experiences to delight players. Their other tools include:
• 3Ds Max – 3D modeling, animation, and rendering software for game design and visualizations.
• Maya – 3D animation, modeling, simulation, and rendering software for film, games, and TV series.
• MUDBOX – a digital painting and sculpting software.
Noticeable games include Candy Rider, Color Bombs, and Roll A Snake, to name a few. If you like Tomodachi Life then you will like these games as well.
• Unity


We are finally transitioning to more advanced software or calling them the Big Boys League in game development software. Unity Technologies developed a cross-platform game engine, Unity was announced and released in June 2005 at Apple Inc.'s Worldwide Developers Conference as a Mac OS-X exclusive game engine.
Being extended to more than 25 platforms as of 2018, the latest stable version 2020.2.0 was released in December last year. Such has been the impact that the Unity Game Engine has been adopted by various industries including architecture, automotive, construction, engineering, and even the film industry. Renowned projects include Ori and the Blind Forest, Cuphead, Pillars of Eternity, and Fe, to name a few.
• Unreal Engine


And finally, this list comes to an end with the biggest bad boy out there, all hail the Unreal Engine. Developed by Epic Games and first showcased in a 1998 fps (first-person shooter) game, the latest Unreal Engine 5 was revealed on May 2020 for next-gen consoles including PS 5 and latest Xbox series.
Unreal Engine offers a high degree of portability since it is written in C++, thus offering a wide range of support for many other platforms. Since 2015, it can be downloaded for free with its source code available on GitHub's private repository. There is a huge list of games developed with the help of Unreal Engine series, including the likes of Borderlands 2, Deus Ex, Gears of War, Batman Arkham Asylum, Mass Effect 2, etc.

Conclusion
Though I certainly hope that you would not associate me with any fascist movement when I say this, the best has yet to come. No, seriously, the world of game development is quickly progressing forward, and with Unreal Engine 5 launching in 2021 no one really knows where next-generation gaming will take us. Let's all just keep our fingers crossed and hope that they blow us away with amazing spectacles and outrageous gameplays. Cheers!