In-App Chat allows Mobile Apps and Websites to improve their User Engagement, and achieve new use-cases. Whether it's a conversation between – Service Providers and Customers in On-demand Services Apps, Doctors and Patients in Healthcare, Teachers and Parents in Education, Advisors and Investors in Finance Apps, Recruiters and Candidates in Jobs Apps, Attendees in Event Apps, or Prospects in Dating, effective Chat feature in the App can be used to empower all!
Through better assistance in conversations and collaboration, In-App Chat also presents an innate opportunity for Monetization.
In this article, we're going to list some innovative ways in which a Chat feature that creates 1-1 or Group Connections between users can generate opportunities for Monetization, leading to Revenue Growth for many App-enabled Businesses.
Methods to generate Revenue with Chat
Subscriptions
Subscriptions are a popular technique for monetizing Apps. They are a methodology for offering products and benefits to customers with a recurring payment model, thus generating a consistent stream of income.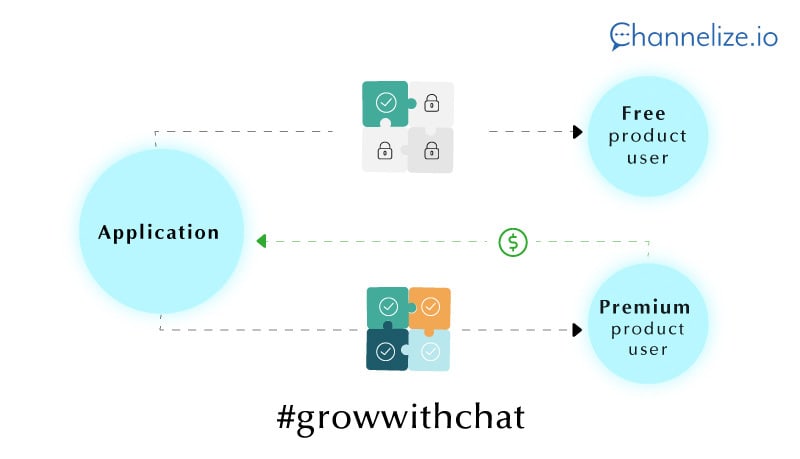 To achieve monetization with Chat through subscriptions, one of the most important methods is RBAC (Role-Based Access Control). What is RBAC? RBAC provides restrictions on the access of features based on the roles of users. With the help of RBAC, you will be allowed to give access to certain features of Chat, or limit the use of certain features of Chat, to privileged/paid users.
For example: In Dating Applications, where Chat is a straightforward requirement for engagement, users can be provided access to features according to their subscription plan. One such possibility could be that users of Free Plan can exchange Text messages with their prospects, but paid / premium users will be able to access more advanced features like Video Calling with their prospects. Dating application eHarmony, which reportedly has an annual revenue of $75 mn, operates on a similar line with paid membership required for chatting with other prospects.
This method can be used to create further segments within the users based on their interest to pay, thereby opening more monetization options.
Credit Utilization
Credits and their utilization is another effective way to generate revenue from Chat in your Apps. Users can pay in advance to buy credits and get access to Chat features while paying from their credits as-they-go.
Credits deduction can be associated with the utilization of various chat features, like:
Number of Chat Messages sent
Number of Contacts messaged
Number of Call minutes consumed, etc
Such a credit utilization method can be a great addition to many App Types. With this pay-as-you-use model, users will not have to worry about their subscription getting renewed every month without using Premium features. They can purchase credits according to their usage.
A good example of such Chat Monetization cases are the Influencer Networks or Online Communities where users connect with Influencer Members.
Pay Per Converstaion
Many App Businesses use Chat as an important utility feature. Such App types, where Chats are formal and need-based, and not casual, earn from their customer users paying for each Chat Conversation.
Such Apps mostly offer Advisory & Consultation Services to their users, and some examples of these are:
Healthcare Apps where Patients seek online consultation from Doctors.
Financial Services Apps where Financial Advisors provide consultation to Investor Users.
Legal Marketplaces (like rocketlawyer.com) where Lawyers provide legal advice to customers
In all such cases, different fees can be charged from users for different types of conversations (Chat & Calling). Lybrate, which is a popular healthcare app, charges patients a lesser fee for a consultation with Doctors over text chat, and a higher fee for consultation over a video call.
Such Apps may also choose for the conversations to remain open for a fixed time-frame, and ask customers to pay again when they need consultation next time. For example, many doctors provide free follow-ups for a couple of days after the consultation.
For such app-based businesses to consistently grow their revenue from Chat, it is important to get good consultation or advisory providers on their platform. Customers would come back to their app only if they have benefited from their past interactions.